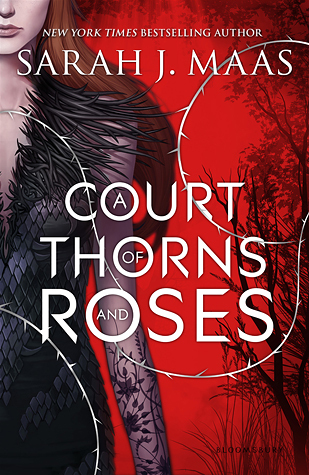 A thrilling, seductive new series from New York Timesbestselling author Sarah J. Maas, blending Beauty and the Beast with faerie lore.
When nineteen-year-old huntress Feyre kills a wolf in the woods, a beast-like creature arrives to demand retribution for it. Dragged to a treacherous magical land she only knows about from legends, Feyre discovers that her captor is not an animal, but Tamlin—one of the lethal, immortal faeries who once ruled their world.
As she dwells on his estate, her feelings for Tamlin transform from icy hostility into a fiery passion that burns through every lie and warning she's been told about the beautiful, dangerous world of the Fae. But an ancient, wicked shadow grows over the faerie lands, and Feyre must find a way to stop it . . . or doom Tamlin—and his world—forever.
Perfect for fans of Kristin Cashore and George R. R. Martin, this first book in a sexy and action-packed new series is impossible to put down!
---
HOLY COW!!! I adored every bit of this story. It started with a very beauty and the beast type of feel but transitioned into an awesome tale about an impending war between humans and faeries. It is a beautifully descriptive work of fantasy that was deliciously magical and I wallowed in it!  Sarah Maas managed to create a world of faeries that were both incredibly beautiful and fierce at the same time.   I haven't been this sad to have to wait for another book in a series to come out since Maria V. Snyder was working on Shadow Study!  Sarah J. Maas builds worlds like Kristin Cashore and is quickly climbing her way up my list of favorite authors.  Believe me, any comparisons to Kristin Cashore and Maria V. Snyder are considered extremely high praise in my universe.  
I wish I could put my finger on exactly what I loved so much about this book, but the truth is that I loved everything.  I realize I'm gushing a little bit here, but I honestly felt completely transported into a world that I wanted to believe could exist alongside our own.  Feyre and Tamlin were both strong and independent leads who managed to evolve beautifully throughout the course of the narrative.  I appreciated the pacing of the story – it had a very YA pace.  However, the romance felt distinctly more adult.  Both main characters suffered through tremendous hardships in their formative years.  And yet, instead of being bitter and broken by the responsibilities they have had to face, Feyre and Tamlin have flourished.  They are real examples that successful relationships require partners who trust one another.  They worked as a team, even when both of them would rather sacrifice themselves for the good of one another.
I finished this book last week and I haven't been able to pick up a single book that has felt as incredible as A Court of Thorns and Roses. Sarah J. Maas' writing has pushed me to an abysmal book hangover and I'm not sure I'll be recovering anytime soon.