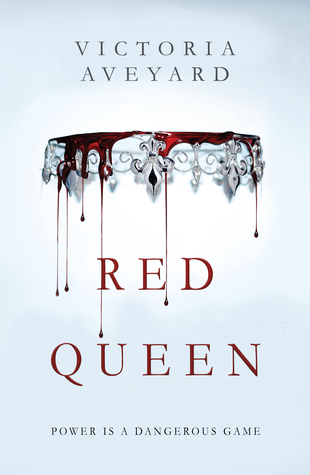 ---
The poverty stricken Reds are commoners, living under the rule of the Silvers, elite warriors with god-like powers.
To Mare Barrow, a 17-year-old Red girl from The Stilts, it looks like nothing will ever change.
Mare finds herself working in the Silver Palace, at the centre of
those she hates the most. She quickly discovers that, despite her red blood, she possesses a deadly power of her own. One that threatens to destroy Silver control.
But power is a dangerous game. And in this world divided by blood, who will win?
---
Victoria Aveyard has crafted a thoroughly enjoyable tale in her novel, Red Queen.  I enjoyed the well-crafted world of the Silvers and the Reds.  The caste system created through the powers of the Silvers really highlighted the poverty and the struggles of the Red population.  However, I think that Aveyard's character development fell short of her world-building capabilities.
Mare Barrow, is an interesting character in this novel, but I didn't find any of the love interests presented in this tale to be fully believable. While reading, I found myself waiting to get back to the parts of the story that weren't revolving around her weak interactions with potential suitors.  However, I loved the intrigue and the rising rebellion that arrived later in the tale.  Let it be known that I am a sucker for the kind of story where corruption is vanquished and evil rulers are brought to their knees.  In this sense, Aveyard told a fascinating story.  Overall, I enjoyed this book and would definitely be interested in seeing what Aveyard comes up with next.