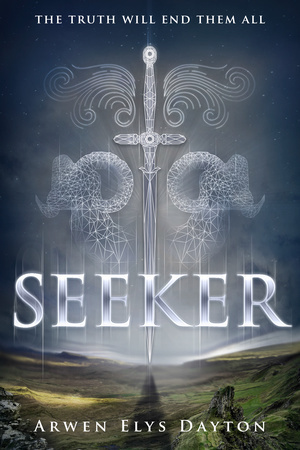 Goodreads Summary: Quin Kincaid has been put through years of brutal training for what she thinks is the noble purpose of becoming a revered 'Seeker'.
Only when it's too late does she discover she will be using her new-found knowledge and training to become an assassin. Quin's new role will take her around the globe, from a remote estate in Scotland to a bustling, futuristic Hong Kong where the past she thought she had escaped will finally catch up with her.
---
I was extremely excited to read this book when it came out because it was getting so many fabulous reviews and I am thrilled to report that I thoroughly enjoyed reading this book.   Seeker is a novel that takes readers on a whirlwind journey through time and space as Quin Kincaid follows her own path of self-discovery to find out what being a Seeker truly means.  The world-building was awesome – although a bit complicated at times – and the characters were captivating.
However, I will say that when I was reading this book, I found myself wondering about the history of the seekers, their families, and the Dreads.  My curiosity about the backstories and histories is the only serious drawback that I really encountered while reading this book.  This was an entertaining, fast-paced read, but it wasn't life-changing.  This isn't a book that made me feel like I wanted to dig into the themes and motifs to try and find a way I could use it in my classroom with my students.  I also haven't found myself telling people that they should be reading this book and recommending it everywhere I go.
Ultimately, this was a good book that was set in a brilliant, colorful and fascinating world.  I am curious to see what is going to happen in the future as this story continues. I give this book 3.5 stars