Top Ten Tuesday
Hosted by: The Broke and the Bookish
Description: Top Ten Tuesday is an original feature/weekly meme created here at The Broke and the Bookish. This feature was created because we are particularly fond of lists here at The Broke and the Bookish. We'd love to share our lists with other bookish folks and would LOVE to see your top ten lists!
---
This week's Top Ten Tuesday is devoted to the top ten books from my childhood (teen/college years) that I would love to re-visit. These books are, essentially, a smattering of my youth. Enjoy!

---
1. A Wrinkle in Time ~ Madeleine L'Engle

Goodreads Summary: It was a dark and stormy night; Meg Murry, her small brother Charles Wallace, and her mother had come down to the kitchen for a midnight snack when they were upset by the arrival of a most disturbing stranger.
"Wild nights are my glory," the unearthly stranger told them. "I just got caught in a downdraft and blown off course. Let me be on my way. Speaking of way, by the way, there is such a thing as a tesseract".
Meg's father had been experimenting with this fifth dimension of time travel when he mysteriously disappeared. Now the time has come for Meg, her friend Calvin, and Charles Wallace to rescue him. But can they outwit the forces of evil they will encounter on their heart-stopping journey through space?
---
2. Walk Two Moons ~ Sharon Creech
Goodreads Summary: "How about a story? Spin us a yarn."
Instantly, Phoebe Winterbottom came to mind. "I could tell you an extensively strange story," I warned.
"Oh, good!" Gram said. "Delicious!"
And that is how I happened to tell them about Phoebe, her disappearing mother, and the lunatic.
As Sal entertains her grandparents with Phoebe's outrageous story, her own story begins to unfold — the story of a thirteen-year-old girl whose only wish is to be reunited with her missing mother.
In her own award-winning style, Sharon Creech intricately weaves together two tales, one funny, one bittersweet, to create a heartwarming, compelling, and utterly moving story of love, loss, and the complexity of human emotion.
---
3. Holes ~ Louis Sachar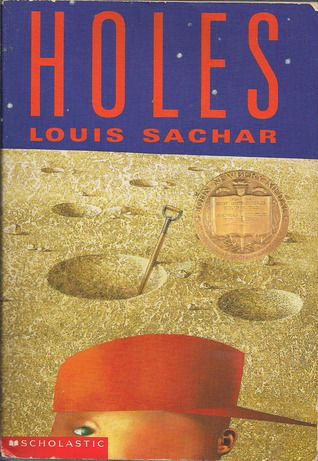 Goodreads Summary: "If you take a bad boy and make him dig a hole every day in the hot sun, it will turn him into a good boy." is motto for Camp Greenlake. Stanley runs away to find pal Zero. Their journey to freedom becomes a battle with hunger, thirst and heat in the shadow of Big Thumb. The mountain is entwined in the Yelnatz's unlucky history. To get there means salvation.
---
4. To Kill a Mockingbird ~ Harper Lee
Goodreads Summary: The unforgettable novel of a childhood in a sleepy Southern town and the crisis of conscience that rocked it, To Kill A Mockingbird became both an instant bestseller and a critical success when it was first published in 1960. It went on to win the Pulitzer Prize in 1961 and was later made into an Academy Award-winning film, also a classic.
Compassionate, dramatic, and deeply moving, To Kill A Mockingbird takes readers to the roots of human behavior – to innocence and experience, kindness and cruelty, love and hatred, humor and pathos.
---
5. The Hobbit ~ J.R.R. Tolkein
Goodreads Summary: In a hole in the ground there lived a hobbit. Not a nasty, dirty, wet hole, filled with the ends of worms and an oozy smell, nor yet a dry, bare, sandy hole with nothing in it to sit down on or to eat: it was a hobbit-hole, and that means comfort.
Written for J.R.R. Tolkien's own children, The Hobbit met with instant critical acclaim when it was first published in 1937. Now recognized as a timeless classic, this introduction to the hobbit Bilbo Baggins, the wizard Gandalf, Gollum, and the spectacular world of Middle-earth recounts of the adventures of a reluctant hero, a powerful and dangerous ring, and the cruel dragon Smaug the Magnificent. The text in this 372-page paperback edition is based on that first published in Great Britain by Collins Modern Classics (1998), and includes a note on the text by Douglas A. Anderson (2001). Unforgettable!
---
6. Shark Girl ~ Kelly Bingham
Goodreads Summary: A teenager struggles through physical loss to the start of acceptance in an absorbing, artful novel at once honest and insightful, wrenching and redemptive.
On a sunny day in June, at the beach with her mom and brother, fifteen-year-old Jane Arrowood went for a swim. And then everything — absolutely everything — changed. Now she's counting down the days until she returns to school with her fake arm, where she knows kids will whisper, "That's her — that's Shark Girl," as she passes. In the meantime there are only questions: Why did this happen? Why her? What about her art? What about her life? In this striking first novel, Kelly Bingham uses poems, letters, telephone conversations, and newspaper clippings to look unflinchingly at what it's like to lose part of yourself – and to summon the courage it takes to find yourself again.
---
7. Touching Spirit Bear ~ Ben Mikaelson
Goodreads Summary: Within Cole Matthews lie anger, rage and hate. Cole has been stealing and fighting for years. This time he caught Peter Driscal in the parking lot and smashed his head against the sidewalk. Now, Peter may have permanent brain damage and Cole is in the biggest trouble of his life.
Cole is offered Circle Justice: a system based on Native American traditions that attempts to provide healing for the criminal offender, the victim and the, community. With prison as his only alternative, Cole plays along. He says he wants to repent, but in his heart Cole blames his alcoholic mom his, abusive dad, wimpy Alex–everyone but himself for his situation.
Cole receives a one-year banishment to a remote Alaskan island. There, he is mauled by Mysterious white bear of Native American legend. Hideously injured, Cole waits for his death His thoughts shift from from Anger to humility. To survive, he must stop blaming others and take responsibility for his life. Rescuers arrive to save Cole's but it is the attack of the Spirit Bear that may save his soul.
Ben Mikaelsen paints a vivid picture of a juvenile offender, examining the roots without absolving solving him of responsibility for his actions, and questioning a society in which angry people make victims of their peers and communities. Touching Spirit Bear is a poignant testimonial to the power of a pain that can destroy, or lead to healing.
---
8. The Chronicles of Narnia ~ C.S. Lewis
Goodreads Summary: Journeys to the end of the world, fantastic creatures, and epic battles between good and evil—what more could any reader ask for in one book? The book that has it all is The Lion, the Witch and the Wardrobe, written in 1949 by Clive Stables Lewis. But Lewis did not stop there. Six more books followed, and together they became known as The Chronicles of Narnia.
For the past fifty years, The Chronicles of Narnia have transcended the fantasy genre to become part of the canon of classic literature. Each of the seven books is a masterpiece, drawing the reader into a land where magic meets reality, and the result is a fictional world whose scope has fascinated generations.
This edition presents all seven books—unabridged—in one impressive volume. The books are presented here according to Lewis' preferred order, each chapter graced with an illustration by the original artist, Pauline Baynes. Deceptively simple and direct, The Chronicles of Narnia continue to captivate fans with adventures, characters, and truths that speak to readers of all ages, even fifty years after they were first published.
---
 9. Elsewhere ~ Gabrielle Zevin
Goodreads Summary:  Welcome to Elsewhere. It is warm, with a breeze, and the beaches are marvelous. It's quiet and peaceful. You can't get sick or any older. Curious to see new paintings by Picasso? Swing by one of Elsewhere's museums. Need to talk to someone about your problems? Stop by Marilyn Monroe's psychiatric practice.
Elsewhere is where fifteen-year-old Liz Hall ends up, after she has died. It is a place so like Earth, yet completely different. Here Liz will age backward from the day of her death until she becomes a baby again and returns to Earth. But Liz wants to turn sixteen, not fourteen again. She wants to get her driver's license. She wants to graduate from high school and go to college. And now that she's dead, Liz is being forced to live a life she doesn't want with a grandmother she has only just met. And it is not going well. How can Liz let go of the only life she has ever known and embrace a new one? Is it possible that a life lived in reverse is no different from a life lived forward?
This moving, often funny book about grief, death, and loss will stay with the reader long after the last page is turned.
---
10. Are You There God?  It's Me, Margaret. ~ Judy Blume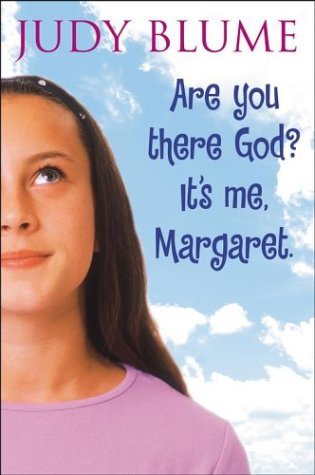 Goodreads Summary: Margaret Simon, almost twelve, has just moved from New York City to the suburbs, and she's anxious to fit in with her new friends. When she's asked to join a secret club she jumps at the chance. But when the girls start talking about boys, bras, and getting their first periods, Margaret starts to wonder if she's normal. There are some things about growing up that are hard for her to talk about, even with her friends. Lucky for Margaret, she's got someone else to confide in… someone who always listens.