Top Ten Tuesday
Hosted by: The Broke and the Bookish
Description: Top Ten Tuesday is an original feature/weekly meme created here at The Broke and the Bookish. This feature was created because we are particularly fond of lists here at The Broke and the Bookish. We'd love to share our lists with other bookish folks and would LOVE to see your top ten lists!
---
Happy St. Patrick's Day!  This is the perfect day for celebrating the fact that spring is on the horizon!  I have so many books that I am thrilled about reading this spring – now, if only I had more time… Here are the Top Ten Books On My Spring TBR List:
---
1. Shadow Study ~ Maria V. Snyder
Goodreads Summary: New York Times bestselling author Maria V. Snyder wowed readers with Poison Study, the unforgettable story of poison taster Yelena. Now she's back with a new tale of intrigue.
Once, only her own life hung in the balance…
Oddly enough, when Yelena was a poison taster, her life was simpler. But she'd survived to become a vital part of the balance of power between rival countries Ixia and Sitia. Now she uses her magic to keep the peace in both lands—and protect her relationship with Valek.
Suddenly, though, they are beset on all sides by those vying for power through politics and intrigue. Valek's job—and his life—are in danger. As Yelena tries to uncover the scope of these plots, she faces a new challenge: her magic is blocked. She must keep that a secret—or her enemies will discover just how vulnerable she really is—while searching for who or what is responsible for neutralizing her powers.
Yes, the days of tasting poisons were much simpler. And certainly not as dangerous…
---
2. Half a King ~ Joe Abercrombie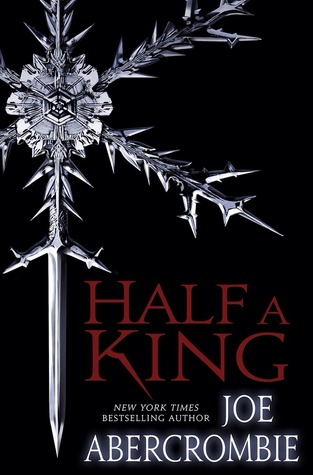 Goodreads Summary: "I swore an oath to be avenged on the killers of my father. I may be half a man, but I swore a whole oath"
Prince Yarvi has vowed to regain a throne he never wanted. But first he must survive cruelty, chains and the bitter waters of the Shattered Sea itself. And he must do it all with only one good hand.
The deceived will become the deceiver
Born a weakling in the eyes of his father, Yarvi is alone in a world where a strong arm and a cold heart rule. He cannot grip a shield or swing an axe, so he must sharpen his mind to a deadly edge.
The betrayed will become the betrayer
Gathering a strange fellowship of the outcast and the lost, he finds they can do more to help him become the man he needs to be than any court of nobles could.
Will the usurped become the usurper?
But even with loyal friends at his side, Yarvi's path may end as it began – in twists, and traps and tragedy…
---
3. I'll Give You the Sun ~ Jandy Nelson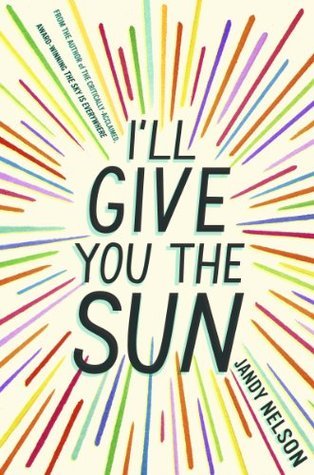 Goodreads Summary: A brilliant, luminous story of first love, family, loss, and betrayal for fans of John Green, David Levithan, and Rainbow Rowell
Jude and her twin brother, Noah, are incredibly close. At thirteen, isolated Noah draws constantly and is falling in love with the charismatic boy next door, while daredevil Jude cliff-dives and wears red-red lipstick and does the talking for both of them. But three years later, Jude and Noah are barely speaking. Something has happened to wreck the twins in different and dramatic ways . . . until Jude meets a cocky, broken, beautiful boy, as well as someone else—an even more unpredictable new force in her life. The early years are Noah's story to tell. The later years are Jude's. What the twins don't realize is that they each have only half the story, and if they could just find their way back to one another, they'd have a chance to remake their world.
This radiant novel from the acclaimed, award-winning author of The Sky Is Everywhere will leave you breathless and teary and laughing—often all at once.
---
4. These Gentle Wounds ~ Helene Dunbar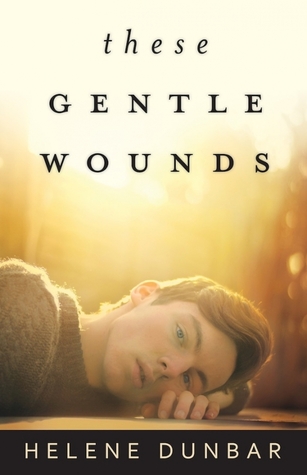 Goodreads Summary: Sometimes I wish I'd lost a leg or something. Everyone can understand that. They never get it when what's been broken is inside your head.
Five years after an unspeakable tragedy that changed him forever, Gordie Allen has made a new home with his half-brother Kevin. Their arrangement works since Kevin is the only person who can protect Gordie at school and keep him focused on getting his life back on track.
But just when it seems like things are becoming normal, Gordie's biological father comes back into the picture, demanding a place in his life. Now there's nothing to stop Gordie from falling into a tailspin that could cost him everything—including his relationship with Sarah, the first girl he's trusted with the truth. With his world spinning out of control, the only one who can help Gordie is himself . . . if he can find the strength to confront the past and take back his future.
---
5. Audacity ~ Melanie Crowder
Goodreads Summary: The inspiring story of Clara Lemlich, whose fight for equal rights led to the largest strike by women in American history
A gorgeously told novel in verse written with intimacy and power, Audacity is inspired by the real-life story of Clara Lemlich, a spirited young woman who emigrated from Russia to New York at the turn of the twentieth century and fought tenaciously for equal rights. Bucking the norms of both her traditional Jewish family and societal conventions, Clara refuses to accept substandard working conditions in the factories on Manhattan's Lower East Side. For years, Clara devotes herself to the labor fight, speaking up for those who suffer in silence. In time, Clara convinces the women in the factories to strike, organize, and unionize, culminating in the famous Uprising of the 20,000.
Powerful, breathtaking, and inspiring, Audacity is the story of a remarkable young woman, whose passion and selfless devotion to her cause changed the world.
---
6. All the Bright Places ~ Jennifer Niven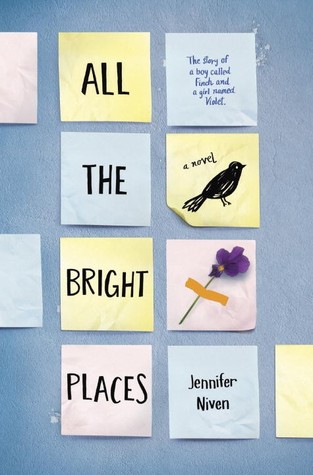 Goodreads Summary: The Fault in Our Stars meets Eleanor and Park in this exhilarating and heart-wrenching love story about a girl who learns to live from a boy who intends to die.

Theodore Finch is fascinated by death, and he constantly thinks of ways he might kill himself. But each time, something good, no matter how small, stops him.
Violet Markey lives for the future, counting the days until graduation, when she can escape her Indiana town and her aching grief in the wake of her sister's recent death.
When Finch and Violet meet on the ledge of the bell tower at school, it's unclear who saves whom. And when they pair up on a project to discover the "natural wonders" of their state, both Finch and Violet make more important discoveries: It's only with Violet that Finch can be himself—a weird, funny, live-out-loud guy who's not such a freak after all. And it's only with Finch that Violet can forget to count away the days and start living them. But as Violet's world grows, Finch's begins to shrink.
This is an intense, gripping novel perfect for fans of Jay Asher, Rainbow Rowell, John Green, Gayle Forman, and Jenny Downham from a talented new voice in YA, Jennifer Niven.
---
7. The Glass Arrow ~ Kristen Simmons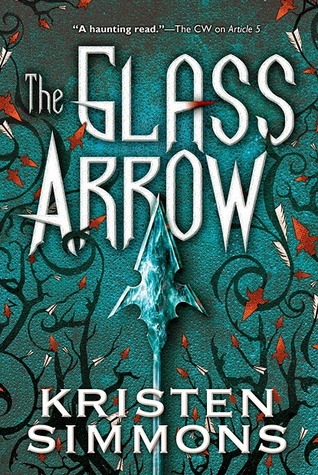 Goodreads Summary: The Handmaid's Tale meets Blood Red Road in Glass Arrow, the story of Aya, who lives with a small group of women on the run from the men who hunt them, men who want to auction off breeding rights to the highest bidder.
In a world where females are scarce and are hunted, then bought and sold at market for their breeding rights, 15-year-old Aya has learned how to hide. With a ragtag bunch of other women and girls, she has successfully avoided capture and eked out a nomadic but free existence in the mountains. But when Aya's luck runs out and she's caught by a group of businessmen on a hunting expedition, fighting to survive takes on a whole new meaning.
---
8. The Sin Eater's Daughter ~ Melinda Salisbury
I am the perfect weapon.
I kill with a single touch.
Twylla is blessed. The Gods have chosen her to marry a prince, and rule the kingdom. But the favour of the Gods has it's price. A deadly poison infuses her skin. Those who anger the queen must die under Twylla's fatal touch.
Only Lief, an outspoken new guard, can see past Twylla's chilling role to the girls she truly is.
Yet in a court as dangerous and the queen's, some truths should not be told…
---
9. A Court of Thorns and Roses ~ Sarah J. Maas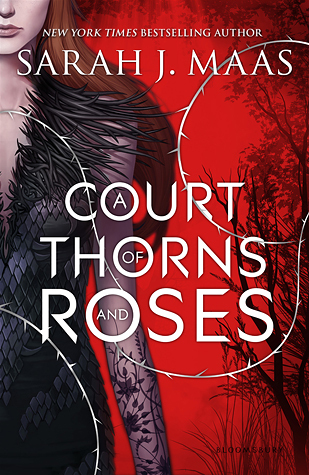 Goodreads Summary: A thrilling, seductive new series from New York Timesbestselling author Sarah J. Maas, blending Beauty and the Beast with faerie lore.
When nineteen-year-old huntress Feyre kills a wolf in the woods, a beast-like creature arrives to demand retribution for it. Dragged to a treacherous magical land she only knows about from legends, Feyre discovers that her captor is not an animal, but Tamlin—one of the lethal, immortal faeries who once ruled their world.
As she dwells on his estate, her feelings for Tamlin transform from icy hostility into a fiery passion that burns through every lie and warning she's been told about the beautiful, dangerous world of the Fae. But an ancient, wicked shadow grows over the faerie lands, and Feyre must find a way to stop it . . . or doom Tamlin—and his world—forever.
Perfect for fans of Kristin Cashore and George R. R. Martin, this first book in a sexy and action-packed new series is impossible to put down!
---
10. Made You Up ~ Francesca Zappia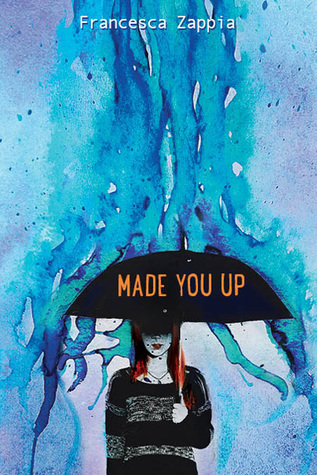 Goodreads Summary: Reality, it turns out, is often not what you perceive it to be—sometimes, there really is someone out to get you. Made You Up tells the story of Alex, a high school senior unable to tell the difference between real life and delusion. This is a compelling and provoking literary debut that will appeal to fans of Wes Anderson, Silver Linings Playbook, and Liar.
Alex fights a daily battle to figure out the difference between reality and delusion. Armed with a take-no-prisoners attitude, her camera, a Magic 8-Ball, and her only ally (her little sister), Alex wages a war against her schizophrenia, determined to stay sane long enough to get into college. She's pretty optimistic about her chances until classes begin, and she runs into Miles. Didn't she imagine him? Before she knows it, Alex is making friends, going to parties, falling in love, and experiencing all the usual rites of passage for teenagers. But Alex is used to being crazy. She's not prepared for normal.
Funny, provoking, and ultimately moving, this debut novel featuring the quintessential unreliable narrator will have readers turning the pages and trying to figure out what is real and what is made up.