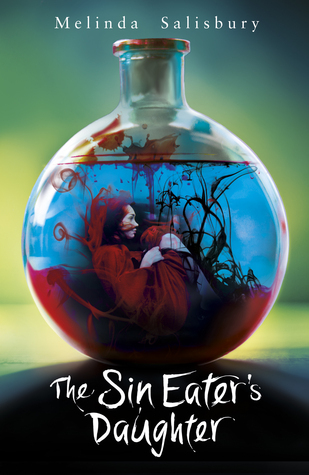 ---
I am the perfect weapon.
I kill with a single touch.
Twylla is blessed. The Gods have chosen her to marry a prince, and rule the kingdom. But the favour of the Gods has it's price. A deadly poison infuses her skin. Those who anger the queen must die under Twylla's fatal touch.
Only Lief, an outspoken new guard, can see past Twylla's chilling role to the girls she truly is.
Yet in a court as dangerous and the queen's, some truths should not be told…
---
Reading this novel was an interesting experience.  There were times when I loved it and there were times when I felt like it was a struggle to get through it.  The problem is, I wanted to love this book cover to cover and I didn't.  Don't get me wrong, overall, it was a good read and a nice way to pass the time.  It also had an awesome love story, which by now, I think we all know I enjoy.  However, I just had SUCH high hopes for this book and it just seemed to fall flat – especially in regards to the world-building, which is such a huge component of any successful fantasy novel.
**This portion of the review contains SPOILERS!**
I adored the back story of the Sin Eaters and the role they played in Twylla's world.  However, I am not sure that Melinda Salisbury was completely successful in connecting the lore of the Sin Eater to the culture of the world that Twylla inhabited.  I wanted to know more about how these Sin Eaters worked and their connection to the Gods.  I guess the real problem I had with this novel is that by the end, I felt like I had been through a bate and switch scheme.  Please understand, I don't mind being surprised by a novel, in fact, more often than not I am thrilled when an author surprises me.  However, in this book, Salisbury took the lore and turned it on its head, leaving it meaningless.  I didn't want Twylla's existence at court to be a sham, I feel like that was an easy out for Salisbury so she didn't have to get into the complicated existence of the connections between the Gods and the Sin Eaters or the Gods and Twylla.  Although, I will say, that was really about the only thing I didn't like about this book.
I absolutely loved the business of the court intrigue and the use of an apothecary to keep Twylla's condition a secret.  I also loved the Machiavellian brutality of the Queen trying to maintain rule over her people in the face of a potential invasion.  These bits of the story added so much suspense and drama, which made really fun to read.   Furthermore, the love story that bloomed between Lief and Twylla was awesome and full of brutal twists and turns as well.  Overall, I would be interested in reading other books by Melinda Salisbury.  I think this novel showed she has the chops to spin a pretty sophisticated tale.